Shopping Cart
Your Cart is Empty
Thank you for your business!
You should be receiving an order confirmation from Paypal shortly.
Exit Shopping Cart
RR's looking for new homes...
Please help us find good, forever homes for these dogs, many of whom have ended up in rescue through no fault of their own.
Please contact us if:
You would like to re-home a Ridgeback, or
You know of someone who would be interested in re-homing a Ridgeback
If you find you are in the position that you can no longer keep your Rhodesian Ridgeback and wish to have them rehomed, please in the first instance contact the Breeder you obtained the pup from for advice. Reputable breeders will assist in the rehoming of dogs that they have bred, as is laid out in the Kennel Club Code of Ethics. If this is not possible please get in touch with us.
Our Committee member currently looking after Rescue is:
Mrs Liz Hughson
07913 844 283
EMAIL: [email protected]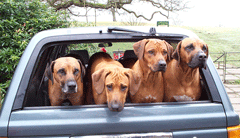 0

/